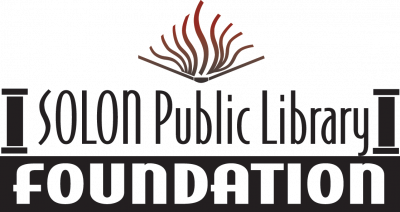 ---
The Solon Public Library Foundation, a non-profit organization, was established in 2004 to provide support for library programs and long-range building plans. The Foundation's first project was to provide a Web-based catalog system. This online access allows patrons to browse the library catalog, reserve books, and extend check out periods. Upgrading the digital capabilities of the library was also a part of this project.
Since the opening of the new library building in 2001, the growth in use of the facility has exceeded all expectations. To support this growth and maintain a viable community library, the Foundation is organized to solicit donations, accept gifts, and manage these funds carefully to support long-term growth in library service.
Donations to the Foundation can benefit the community in two ways:
Your donation to the Foundation is an investment in your community as well as a contribution to the long-term growth of the library. To make a donation, please fill out the form on the Foundation brochure and return it to the library with your gift. You can pick up a copy at the library or use the link below and print a copy of it.
Donations to the Foundation's Education Endowment Fund can be made online through the Community Foundation of Johnson County. These donations help fund the Foundation Scholarship Funds. Each year two $500 scholarships are awarded to Solon High School seniors. Additional scholarship funds are now available for Solon Public Library staff to apply for to continue their education and learn new skills to benefit our community.
Foundation Board Members:
Anne Kent-Miller - President
Christine Steinbrech - Treasurer
Sandy Phillips - Secretary
Kris Brown
Bob King
Liz King (Library Director, non-voting consultant)
Contact the Foundation via email at splfoundationia@gmail.com
Shopping that Gives Back!
Whether shopping for holidays or everyday purchases, you can also support your local library! It's easy. When using Amazon, be sure to use the web address: smile.amazon.com. Once you're there, you have the option to choose a charity that Amazon will support with a small percentage of your shopping dollars. Please select either the Friends of the Solon Library or the Solon Public Library Foundation. The Friends support many of the library programs throughout the year. The Foundation is collecting funds for larger long-term goals, from multiple computer replacements to building expansion. Every dollar earned will benefit your Library. Thank you for your continued support!