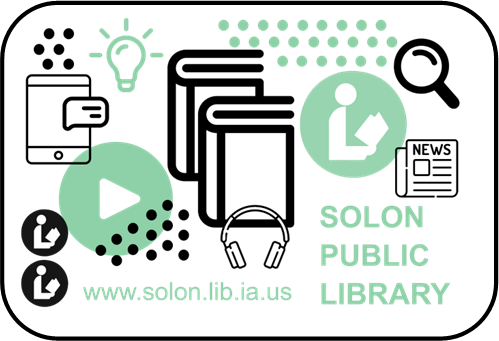 Solon, IOWA Library Card
If you already have an account, please just email/call/visit us to update and/or request a replacement card.
Beginning January 1, 2022 patrons will be required to present identification for every check-out.
Options include:
Library Card/Key Fob
Virtual Barcode (on your smart device)
Current Photo ID
Know your Library Account Number & your address
Need a Library card? Sign up at the Library or complete the form below.
********
Visit the library or submit the online form to sign-up for a library card.
Youth patrons 13 years & younger must be accompanied by a parent or guardian. Patrons 14 years & older must present photo identification and proof of current IOWA address.
Patrons must update their cards every two years.
****************
---
Once you have your new library account info, you'll be ready to search the catalog, access eBooks and more! Watch a short tutorial below on how to set your new account up in the catalog and how to use Bridges for eBooks!
---
Another "Tech Help" video to show you how to view your account history, and account information (please note updates must be made through the Library).