Each fiscal year we compile our stats and share the annual report with our community. Please download the PDF to view the entire report.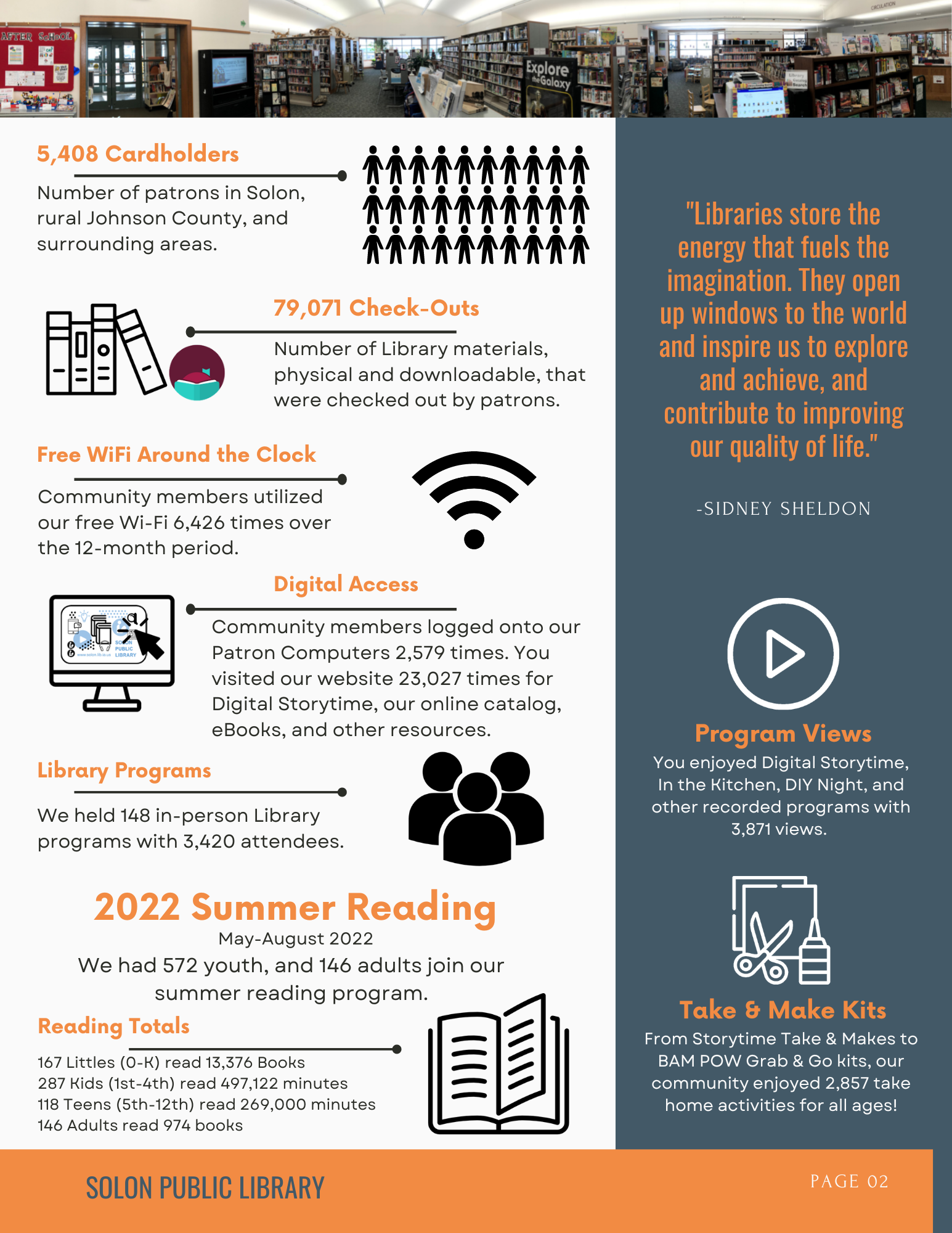 Description of infographic (page 2 of the FY2022 Annual report)
Page 2 of the Solon Public Library Annual Report FY 2022
5,408 Cardholders - Number of patrons in Solon, rural Johnson County, and surrounding areas.
79,071 Check-Outs - Number of Library materials, physical and downloadable, that were checked out by patrons.
Free WiFi Around the Clock - Community members utilized our free WiFi 6,426 times over the 12-month period.
Digital Access - Community members logged onto our Patron Computers 2,579 times. You visited our website 23,027 times for Digital Storytime, our online catalog, eBooks, and other resources.
Library Programs - We held 148 in-person Library programs with 3,420 attendees.
2022 Summer Reading
May-August 2022
We had 572 youth, and 146 adults join our summer reading program.
Reading Totals
167 Littles (0-K) read 13,376 Books
287 Kids (1st-4th) read 497,122 Minutes
118 Teens (5th-12th) read 269,000 Minutes
146 Adults read 974 Books
Right column:
"Libraries store the energy that fuels the imagination. They open up windows to the world and inspire us to explore and achieve, and contribute to improving our quality of life." - Sidney Sheldon
Program Views - You enjoyed Digital Storytime, In the Kitchen, DIY Night, and other recorded programs with 3,871 views.
Take & Make Kits - From Storytime Take & Makes to BAM POW Grab & Go kits, our community enjoyed 2,857 take home activities for all ages!