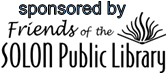 The 2022 Solon-Area Garage Sales are June 3 & 4.
2022 Garage Sale Registration Process
Download the complete instructions by the link above.
Things to know:
Registrations and payment are due by Monday, May 23rd at 6 PM.
Registration is completed via EMAIL.
All garage sale questions should be directed to the Coordinator, contact information is included in the instructions.