Grant Wood Prints For Sale at the Library
Prints and note cards illustrated with Grant Wood's painting titled
"New Road" are available for purchase at the Solon Public Library.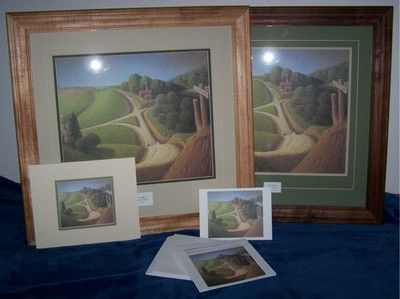 "New Road" belongs to the National Gallery of Art in Washington, D.C. It was gifted to them by Mr. and Mrs. Irwin Strasburger in 1982. The painting is one of only two Grant Wood works owned by the National Gallery. Permission was granted to reproduce this painting for fund-raising purposes. The oil painting, created in 1939, depicts a pastoral scene about five miles west of Solon. In the foreground is a simple wooden marker which reads "SOLON 5 MI".
Availability of mat colors and frame woods varies. Please visit the library to see what is currently available.
5x7" Note Cards with Envelopes, 1 dozen - $10.50
5x7" prints, matted - $12.50
5x7" prints, matted and framed - $25
Large unframed prints - $25
(Picture is 12 3/4" high x 15" wide with a 2" border on 3 sides and 3" border on bottom)
Large prints, matted and framed - $150 (handcrafted wooden frames)
Thank you for supporting the Solon Public Library.